Charcoal & Mold Remediation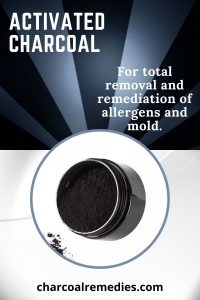 If you see or smell mold in your home, find and remove the source of the mold. Activated charcoal can then assist in mold remediation by cleaning up mold spores in the air and removing mycotoxins from the body. Activated charcoal is a safe and effective means of achieving freedom from the dangerous effects of mold poisoning.
Does activated charcoal kill mold?
As the numerous benefits and uses for activated charcoal are becoming more widely known, many are asking the question, does activated charcoal kill mold? The answer is not quite as simple as yes or no.
Yes, activated charcoal affects mold, but it does not kill the mold itself. Instead, it kills the mycotoxins that the mold creates. When these mycotoxins come into contact with our skin or respiratory system, it is a danger to our health and well-being.  
Activated charcoals act as a binder to remove the mycotoxins. Thus, it helps to aid the body in the healing process from mold poisoning. During mold detoxification regiments, many mold specialists prescribe charcoal supplements for mycotoxin removal.
Does activated charcoal remove airborne molds?
Mold spores can rapidly multiply and travel through the air. Breathing in these mold spores can lead to mold allergies, difficulty breathing, asthma, and many other respiratory symptoms. Activated charcoal can remove these airborne mold spores.
Air purifiers with filters made from activated charcoal can efficiently and effectively remove dangerous airborne molds. We recommend AllerAir. AllerAir is an industrial-strength air purifier that removes mold spores as well as mold odors. Mold pollutants are no match for activated charcoal air filters.
Conclusion
We know mold is dangerous for our health, and we know we ought to get rid of it as quickly as possible. After removing the mold source, you can trust activated charcoal products to eliminate the undesirable mycotoxins and mold spores. Thus, you will then be on the road to a safer, more healthful, mold free home.