Way back in the early 1800s Japanese scientists had refined their understanding of charcoal as an antidote for poisoning. They did extensive tests on animals to catalog the effectiveness of charcoal. The news reached Europe and scientists there began their own experiments.
1813, French chemist Michel Bertrand swallowed five grams of arsenic trioxide (150 times the amount that would have killed most people) mixed with charcoal. There was no nausea, no vomiting, no diarrhea, no excruciating cramping, no severe burning in the mouth and throat, no collapse, no death. In a dangerous, but dramatic way, he had avoided the sure consequences of ingesting the arsenic and demonstrated charcoal's phenomenal ability to hold poisons from being absorbed by the body.1 But don't you try this at home!
1831, in front of a large group of his peers at the French Academy of Medicine, Pierre Touéry, a French pharmacist, reportedly drank a glass of deadly strychnine and survived to publish his story. There were no uncontrolled convulsions, no ill effects at all! Why? Because, he had combined fifteen grams of the poison (ten times the lethal dose) with an equal amount of charcoal.
Obviously these men did not carelessly endanger their lives. By carefully observing laboratory animals, they knew how powerful and fast charcoal worked to neutralize poisons. CharcoalRemedies.com p56
Today activated charcoal/carbon is a common antidote for many kinds of animal poisonings. But some cases of poisoning are so horrific that survival rates drop to near zero. That is until the development of new super carbons. Recently a new product for animal toxicity [AimaLojic by ImmutriX] has come to market. While the actual working part of the instrument is about the size of a shoe box, the filter [columns] are no larger than small teacups, but with huge appetites for toxins and cytokines. Unlike dialysis machines, the blood is directly filtered through the charcoal bed in the hemoperfusion cartridges. Jeff Barnes, one of the principle designers explains: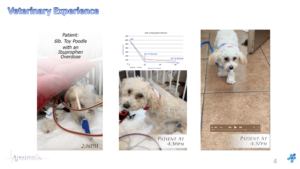 "Technically our therapy is called hemoperfusion or hemoadsorption, and while it kind of looks like dialysis it is completely different in how it works and what it is capable of. Initially, our device will be used in intoxication / overdose / poisoning. The most common overdose in companion animals is ibuprofen. Other common intoxicants are other OTC drugs, prescription drugs, household chemicals, and natural things like snake envenomation, poisonous animals and toxic plants.
We have been treating dogs for intoxication at several vet hospitals around the country with perfect success. Typically our canine intoxication treatments last about 90 minutes, depending on the size of animal, quality of vascular access, and overdose concentration. We typically see 80% removal of a drug or poison in about 30 minutes, at which point the animal comes out of their coma and rapidly improves.
Every animal we have treated has walked out in a matter of hours. The most common overdose in canines is ibuprofen. They can smell the "candy" coating and often will chew the lid off and eat the whole bottle. We have treated many of these and also some other drugs and poisons. The pitbull in the pictures ate a brand new bottle of Advil from CostCo – a massive overdose…. 40x lethal amount."
*Manufactured by ImmutriX, Rapid City, SD