Black Burgers and other Charcoal Delights
How about some tasty Charcoal Lemonade or some BBQ Apple Pie with fresh squeezed cocktail of apple juice, cinnamon… and activated charcoal? A couple fancy restaurants have added the newest and coolest drinks to their juice bars. How about "Detox Dream" with lemon, maple, ginger, cayenne and activated charcoal on the menu. The new Yam Chops eatery in downtown Toronto not only juices up detox smoothies, they also have a mouth-watering charcoal apple pie. Shhh don't tell anyone. Then there is McDonalds and Burger King who have also jumped into the charcoal food novelty with bamboo charcoal burger buns dripping with charcoal cheese, and a menacing competitor, the Dark Vader Burger. Of course charcoal has been used in jellybeans, licorice, jams, confectionairies, and exotic caviar for decades, only now, it seems charcoal has found its own niche on the menu. What next? I can see it now, your favorite ………. smothered in charcoal lemon sauce or peppered with charcoal Parmagiano cheese, or…
Actually charcoal and food is not new. Consider. Around the world man has been cooking with charcoal ever since fire was discovered. Is it any wonder that charcoal crept into the food to add a touch of mystery.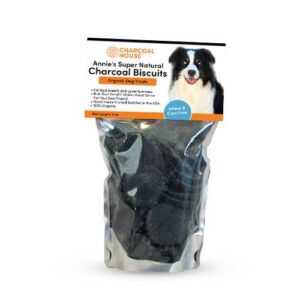 Of course man's best friend also likes a little mystery with her snacks too!
---
We received a call from a Bakery in Ontario, Canada.  The baker was telling me that people are going crazy for Black Burger Buns.  He told me they are huge fad in Japan. They are blackened using bamboo charcoal with a squid ink sauce… I will pass on the squid ink! He ordered a 5 gallon pail of bamboo charcoal and is going to make black hamburger buns for local restaurants in his area. Let us know what your favorite charcoal recipe sounds and looks like.