A customer, Ann, wrote in for advice on the best type of activated charcoal for teeth whitening. She writes, "I got to wondering about all the things that activated charcoal could possibly do, and decided to do an internet search for whitening teeth with charcoal." After finding a plethora of articles on activated charcoal's excellent ability to whiten teeth, she contacted us to see which charcoal is best for teeth whitening.
"I want to try brushing my teeth with activated charcoal as I've heard that it's good for teeth whitening. Would you advise getting powder or granules?" 
Sincerely, 
Ann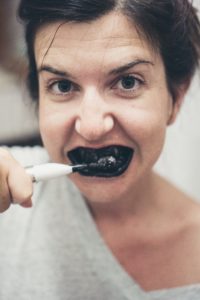 Answer:
Hi Ann.
Thank you, Kimberly
In addition to the powder, brushing with
charcoal toothpaste
is also helpful. We have both a
children's toothpaste
as well as an adult's formula. We also have a
charcoal tooth powder
that utilizes a grade of charcoal especially effective at removing color. While all charcoals will remove colors, some are more adept than others. See this
video
for more information in that regard.