Charcoal Stories From Nepal
Activated Charcoal for Traveler's Diarrhea and a Heart Hole Infection
Dr Bryan Frank is an enthusiast of activated charcoal as a medicinal. He is also the host of TravelDoc.info and recently published his book Travel Well, Naturally: An Essential Guide to Staying Healthy on Personal, Business or Mission Travel. Dr Frank has traveled to over 60 countries, with over 100 missions and teaching tours on 6 continents for over 30 years. I asked him if he had any experiences with charcoal. He shared the common and the uncommon.
Hi John,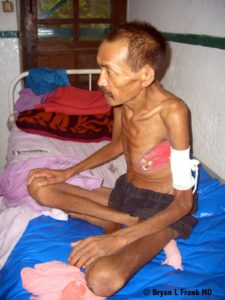 Fortunately with respect to activated charcoal, I have many happy stories. Commonly a traveler's diarrhea from ingestion of tainted foodstuff will be resolved with 4 tabs/capsules of activated charcoal in one or two doses. I typically have people take this with 1-2 Tablespoons of structured silver as an added anti-microbial with great success.
Perhaps my most remarkable success is with a patient in my mission work in Nepal at a leprosy hospital. Having developed from a simple small bug bite to a massive skin wound on his left chest with a penetrating opening through the ribs to where you could actually see his heart beating (see photo). I taught the staff how to spread activated charcoal on the wound and cover with wet gauze twice daily to adsorb the bacteria and toxins. He had been on IV antibiotics and only worsening for about 3 months in the hospital before I taught them this. On my return 6 months later, the Medical Director of the hospital told me that he had rapidly cleared within about 6 weeks, with closing of the wound and return to his home village! Best,
Dr. Bryan
Once again we see that a simple charcoal wound dressing can help resolve a very serious infection. While Activated Charcoal Cloth Wound Dressing are clean, sterile, convenient, and very effective, the lowly charcoal poultice can be equally potent.

For those of you who are game to give charcoal dressings a try for some infection that is not responding to conventional medicine, be sure to take pictures before you begin, otherwise you may forget how bad the infection really was, and others will have a hard time believing you when they see the improvement.