So, your dog has had a run in with a skunk, and tomato juice is not working. What will work to get rid of that smell? Well, you've come to the right place. Over the years, our Annie has had a few run ins with skunks. After another scolding, we go into action:
 Steps to remove skunk odor:
Fill a tub with water (preferably outside)
Add VetDtox™ activated charcoal (3 to 4 Tablespoons usually did the trick for us)
Wash, by repeatedly working the charcoal water into the fur so it gets down to the skin.
Whatever charcoal water your dog does not shake off can stay on.
The charcoal needs to stay on the animal as long as possible to neutralize the skunk odor, so resist the temptation to rinse it off.
But the charcoal will rub off, so beware. Unless Missy or Buddy is restricted to outside, he/she will want to roll on your whitest rugs.
Repeat as needed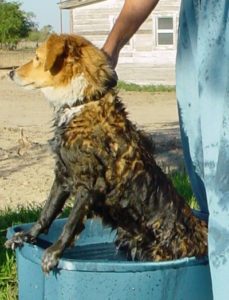 More on Vet Dtox
The active ingredient in Vet Dtox is a high quality activated carbon. The same grade of charcoal that is used in emergency rooms across the world to treat drug overdose, food poisoning and a host of other infirmities. Many are unaware that activated charcoal is also capable of pulling offensive odors out of the air. This grade of charcoal, suitable for home use, is customarily used to pull all sorts of odors, including smoke and mold, from homes across the nation.
How does activated charcoal work?
Scientists are still baffled at the amazing characteristics of activated charcoal and have not been able to fully comprehend its characteristics. Nevertheless, it is believed that the large surface area(one football field per teaspoon), as well as porous structure is what gives charcoal it's awesome ability to adsorb many toxins, odors and pathogens.
 Other uses for pets:
 Vet Dtox is also extremely effective at neutralizing snake, spider and scorpion poisons. Click this link to read an amazing story about a horse that was bit by a brown recluse on the neck, and managed to survive largely due to a last minute application of activated charcoal.