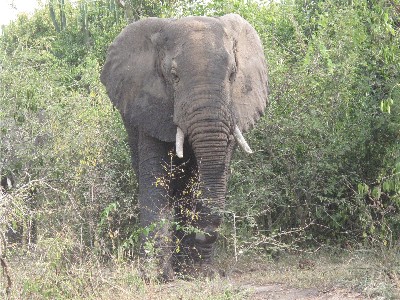 Africa! We were driving out of the Queen Elizabeth National Park when suddenly a HUGE elephant walks out of the jungle! We were speechless! "Quick, get a picture!" John shouts as I excitedly fumble trying to focus—he is no farther than 20 feet or so from the car. Soon his ears were flapping and he was trumpeting to let us know he was not as impressed with us as much as we were with him. "John, hop out and stand by him so people will get an idea how BIG he is!"** Our day spent bouncing over hill, brush and plain was a welcomed reprieve after going nonstop in Uganda since we landed eight days earlier.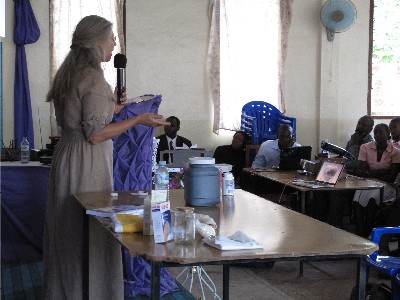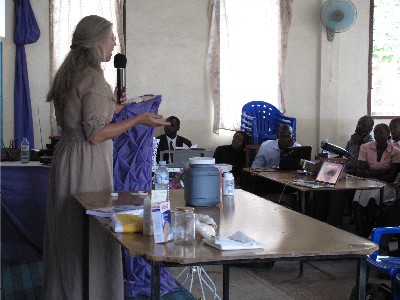 Bugema University Our first weekend was spent at the Bugema University where we put on four programs, beginning Friday evening, and ending Saturday night. We were greatly encouraged by the positive reception of students and staff alike. One of the proffesors told us our coming was a providence—the faculty was wrestling with the idea of starting a School of Public Health and our program was just the catalyst they needed. When we asked if any in the audience had had any personal experiences with charcoal this professor came up and proceeded to tell/show how he had applied a charcoal poultice to an severe infection and it had healed quickly.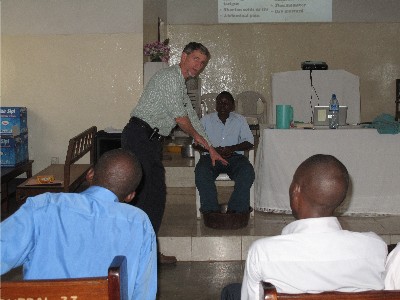 We have heard reports since that the students are taking what they have learned of charcoal as a simple natural remedy and reaching out to their communities.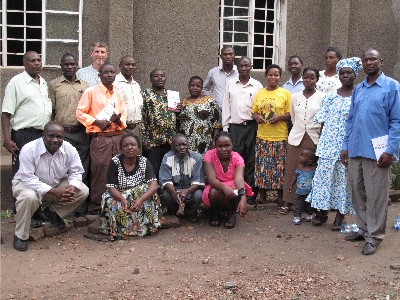 Kasese The first Sunday we drove west to Kasese where we spent a week putting on programs for medical missionaries and government health workers. The program focused on disease prevention (My Eight Doctors) and disease treatment with natural remedies including some simple home hydrotherapy treatments, medicinal charcoal, and common herbs. We received an email today from the program coordinator saying they are preparing to conduct a health seminar for the entire city.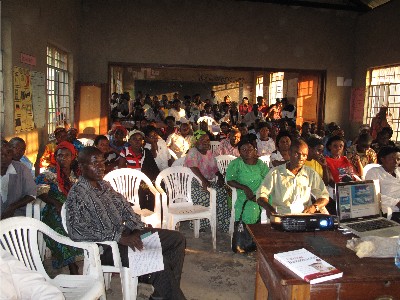 Bundibugyo The second Sunday we moved on to Bundibugo, close to the Congo boarder, where we worked for one week. We had some amazing experiences putting on an open air meeting in the village and then in a church school. The local minister acted as our translator. Each day the audience asked us to come earlier and stay longer. On Wednesday we focused on charcoal as a simple remedy. Even though John adapts the program to the various audiences, we still have a certain routine that we follow. After describing the benefits of drinking charcoal in water, John asks if there  is a 'man' in the audience  who wants to come up front and drink a glass of charcoal water. Usually a man will reluctantly come up, but in this case a number of women were first to rush up to the table. We couldn't help but crack up laughing!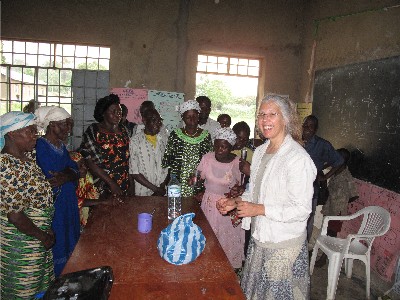 All we had was one glass for all the volunteers! Kimberly was using bottled water to make the slurry and requested that someone get her a washbasin full of water so she could rinse the glass and refill and add charcoal powder for the next sampler. By the time that we were done, the water was quite black with charcoal.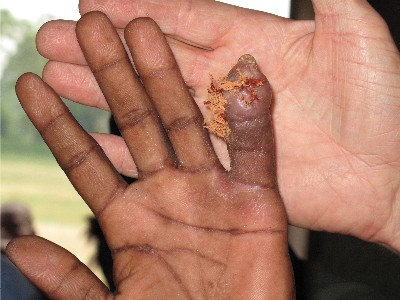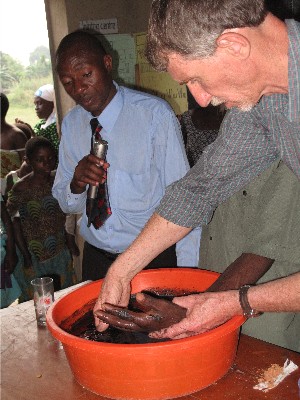 Crushed Finger John had noticed one man enter the large schoolroom and pass to the back. He had his right hand wrapped in cloth. He was clearly in pain. When it came time to demonstrate how to make a charcoal poultice John motioned for the man to come to the front. His face grimaced with pain. John was curious if the man would let us see his hand. He carefully unwrapped his hand so we could see his bandaged finger. We learned he had crushed the finger two months previous. The local health worker had treated him and given him antibiotics but it would not heal, was only getting worse, and he had not slept for a month (look at the man's face) Reluctantly he allowed John to unwrap his bandage. The wound was caked and crusty so John had soak his hand for a few minutes in the large basin of leftover charcoal water. After a few minutes he was able to better clean the finger. At that point John was going to have Kimberly wrap the finger with a charcoal poultice but Kimberly insisted we just add some more charcoal powder to the basin and have him soak his finger longer while we went on with the program.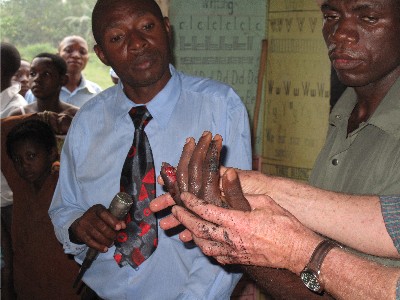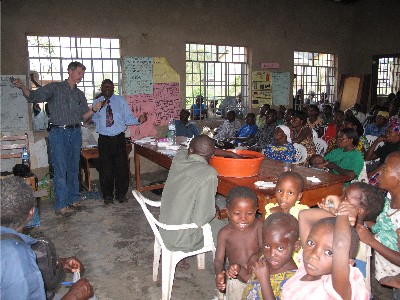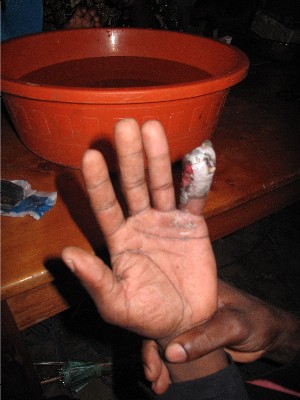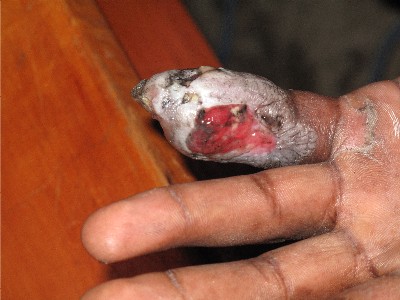 The man became completely transfixed with the PowerPoint presentation and forgot about his finger. An hour or so later, after Kimberly was done bandaging other "patients" with charcoal poultices, it was time to remove the hand from the charcoal bath. It is hard to tell from the picture, there was some bleeding, but already it looked a little better. John washed the finger, put on a charcoal poultice, wrapped the finger and offered a short prayer that God would bless the simple treatment and that healing would begin. Kimberly gave him another charcoal poultice, some coarse ground/sifted charcoal powder and cloth to take with him so he could soak the hand again in the morning and then put on a fresh poultice. We asked him to come back the next day.

He did indeed come back the next day and he wanted to share his testimony. Holding up his bandaged hand (look at his face), he explained how before he had pain shooting up into his elbow and now it was just in his finger, and he had had a full night's sleep. The man was very grateful for the help and gracious in his words. We did not learn until we left that evening that he was a Muslim! It was clear some prejudices were set aside (on both sides). We thank God!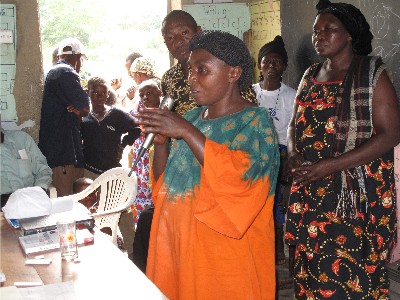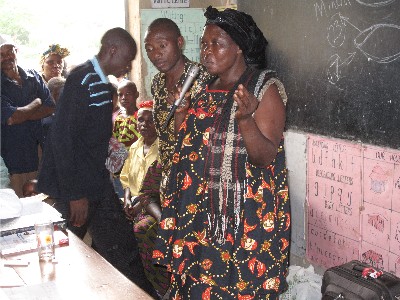 Tumor Another women came up for help and she showed Kimberly her "pregnant" belly of about seven months with what looked like a tumor shooting up about an inch or more on the top left side. Kimberly asked her through the interpreter, "So you're pregnant?" She replied,"No." Kimberly was shocked.  She made her a very large charcoal poultice and because it was not feasible to put it on her, because of what she was wearing, Kimberly sent her home with very precise instructions. The next evening she came back sharing her testimony how she had slept through the night with little pain and wanted another poultice. She also took what was remaining of the charcoal powder for her future poultices. Several others who had taken the charcoal water also came forward to say how much better their stomachs felt.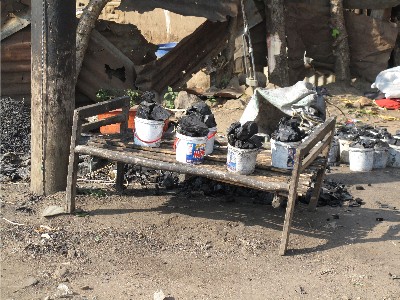 Lump Charcoal The practical benefit, that several commented on, was that we were teaching the people how to grind and sift their own charcoal powder and not getting them attached to the activated charcoal that we brought from the United States. It was a learning experience for us as well and it showed us all that you 'Do not have to be wealthy to be healthy!', that God loves everyone, rich, poor and in between.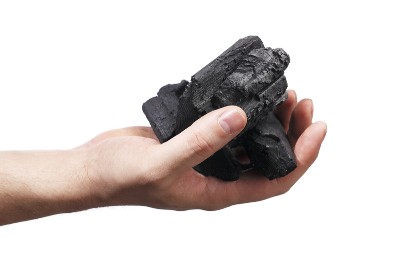 Lump charcoal is the main source of cooking fuel. It is everywhere available. We taught them to first rinse off the lump charcoal with boiled water. They then put some in a common wooden urn in which they grind their grains for cooking with a rounded stick. After some grinding they remove some coarse powder and sift it through a screen that they sift their flour through. It is obviously not as fine as what can be purchased in America but it works nevertheless. Truly a SAAFFE remedy (Simple, Affordable, Available, Free of adverse effects, Faith inspiring, Easy to use).
Hotel Vanilla We worked in Nitandi, but stayed at Hotel Vanilla in Bundibugo. It turned out that Bundibugo had a brand new radio station in town and we arrived its very first week! The owner of the radio station also owned Hotel Vanilla  and was very much into local herbs and also owned a large herbal plantation. He invited us to go on the air live with two programs! The first day John began by whetting everyone's interest in this very common remedy that is used in every hospital in America for poisoning and many other conditions without naming charcoal. He went on to say this remedy was sold in the marketplace and could be found in every home. When the radio announcer/translator finally asked what the remedy was, he was literally speechless when John said "Charcoal." He seriously thought we were joking. If we could only have snapped a picture at that moment!
Diarrhea Kimberly caught the diarrhea bug (probably from an outhouse—just holes in the ground) but unlike some other foreigners we were prepared. I noticed one who looked quite miserable, whereas Kimberly soon had everything under control.
Mubende We spent the third Sunday motoring back over the mountain range to meet with an NGO worker (Non-Governmental Organization) in the city of Muebende. A year earlier Willy had emailed John asking if charcoal would help people with HIV/AIDS. Willy was the director of an orphanage for HIV/AIDS children and also directed development in different villages for US AID. John replied that charcoal should be helpful for the diarrhea and nausea that attend some cases of AIDS. Willy tried it and reported back that some cases showed good results with increased energy. Willy was actually the first to invite us to Uganda and so we spent the last week with him and Dr. Dickson (MD) going to small remote villages putting on impromptu programs.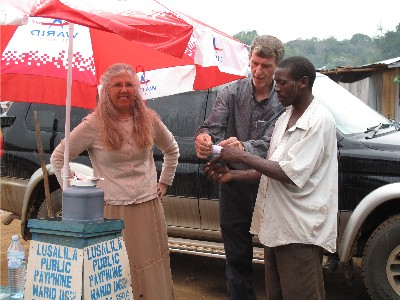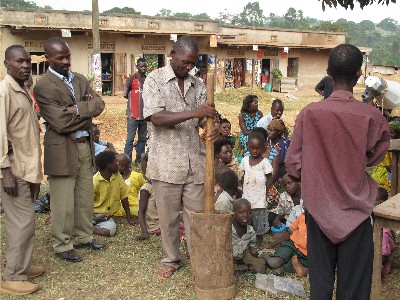 Malaria Clearly the people did not know what to think of these two white people coming into their villages and setting up a little table  (even in the RAIN!). They were cautiously intrigued (including the children)  but as we talked on, they became very interested and were grateful to learn of such a simple and natural remedy as close as their right hand. It was during these talks that we learned more of Willy's experiences as he worked in the villages. Not only did he tell the audiences of treating severe diarrhea (number 4 cause of death in Uganda), infected wounds, he also told them how it was working for his  AIDS patients (number 1 cause of death in Uganda), and how he used it to help control malarial fevers (number 2 cause of death in Uganda). The people were fascinated and so were we to learn how this simple young man, without any formal training, had been using charcoal himself and teaching others including Dr. Dickson.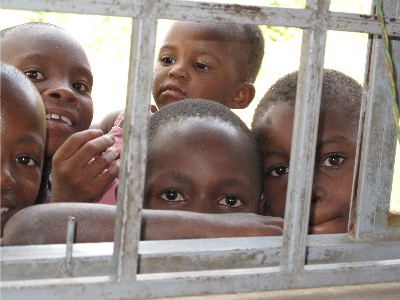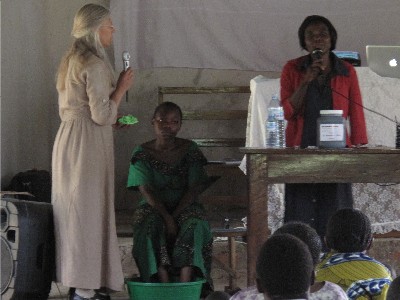 Kampala Arriving back in the capital one realizes very quickly that the health needs are probably just as acute there as in the remote villages. Willy introduced us to a well known herbalist who pulled out of his desk his bottle of toothpaste powder—yes, charcoal powder. Next we were off to give a charcoal poultice to a manager of a small Internet café with a serious leg ulcer that refused to heal. Then to a small church in Willy's neighborhood with an impromptu gathering including a government official. And lastly to a larger church with  our last afternoon program before being driven back to our hotel. As we dodged bodabodas (motorcycle taxis) the minister and his elder were talking in the front seat about visiting the sick in the hospital. "Now we have something to offer all those that are sick. Before all we could do is pray, now we can  DO SOMETHING for them!" They were anxious to share the health information and simple natural remedies they had learned, including medicinal charcoal.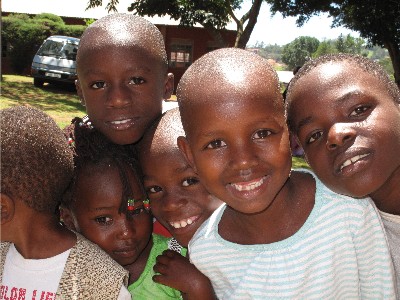 Providence It was not hard to recognize God's timing during our four weeks in Uganda. At Bugema University one of the professors came to us after the first program and confirmed the providential timing. The board had been considering starting a School of Public Health and the timing and content of our programs was just the catalyst they had needed. Then there was the radio program. And having to stop on the side of a steep mountain road with the motor boiling over right next to a clear mountain stream where we could easily fill the radiator after an hour of waiting to let the motor cool down, and still get to our next destination on time. And the Army captain who spoke English well, who happened to walk by a village meeting just as we were demonstrating how to take charcoal and was fascinated with such a simple remedy for wounds. And all the happy children!  And not last the elephant! Thank you God!
We sincerely hope all is well with everyone. May warm spring winds soon blow your way so we can all say, "Lo the winter is past and the time for singing of birds has come." May God's richest blessings be yours,
Sincerely 
Kimberly and John

** Photoshopped picture 🙂