Brown Recluse Spider Bite Natural Remedy
Colt story 3/17/2017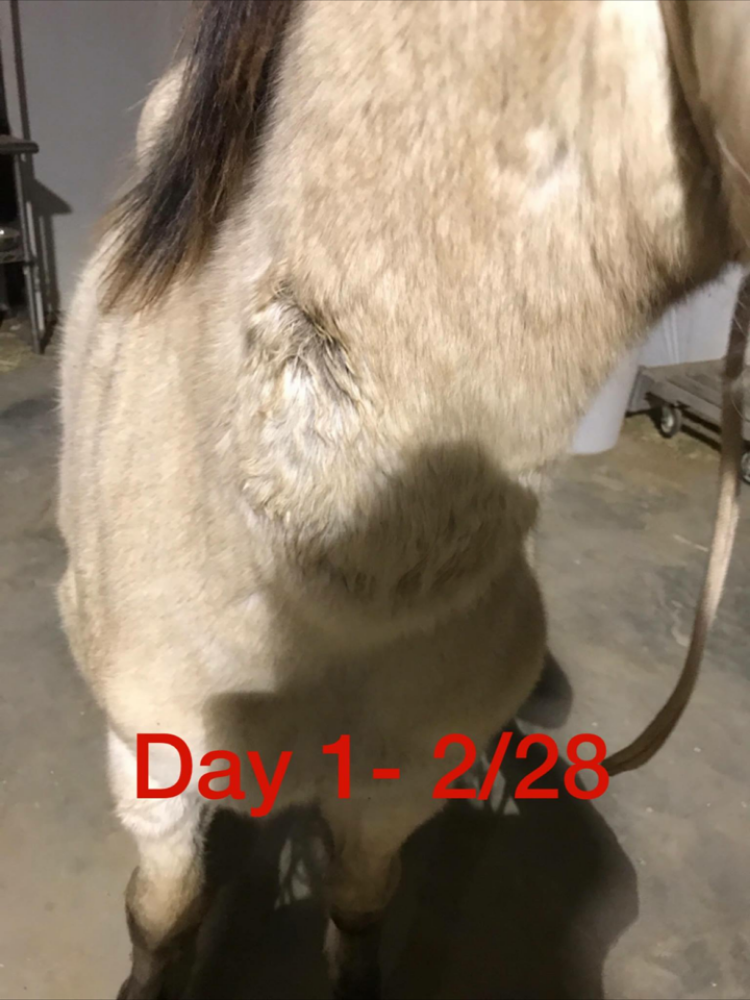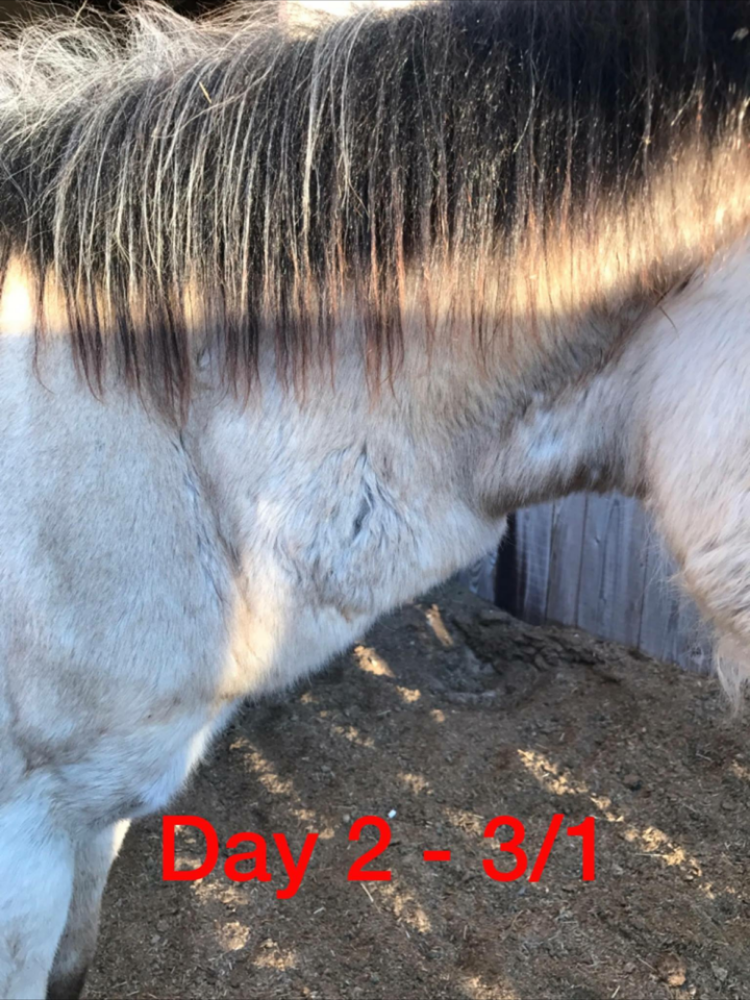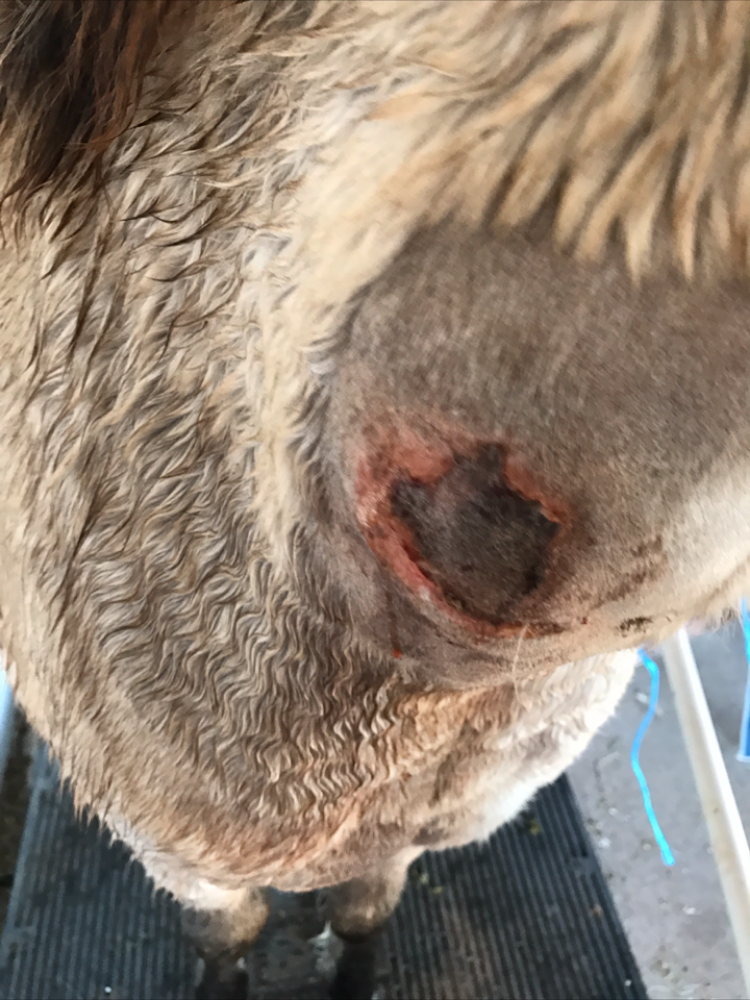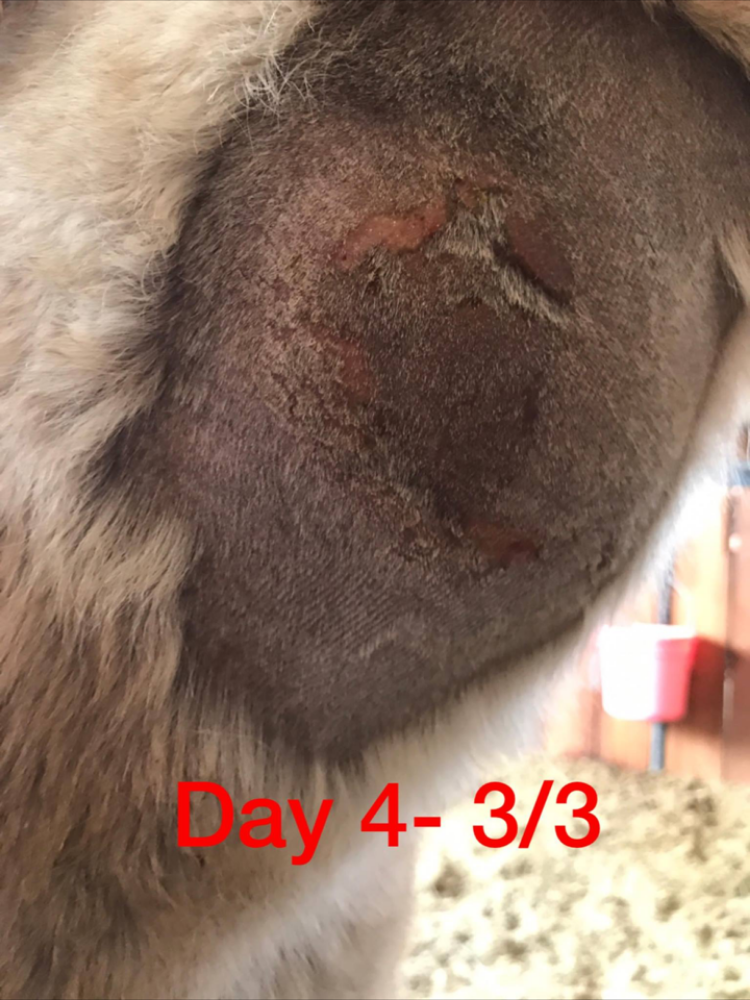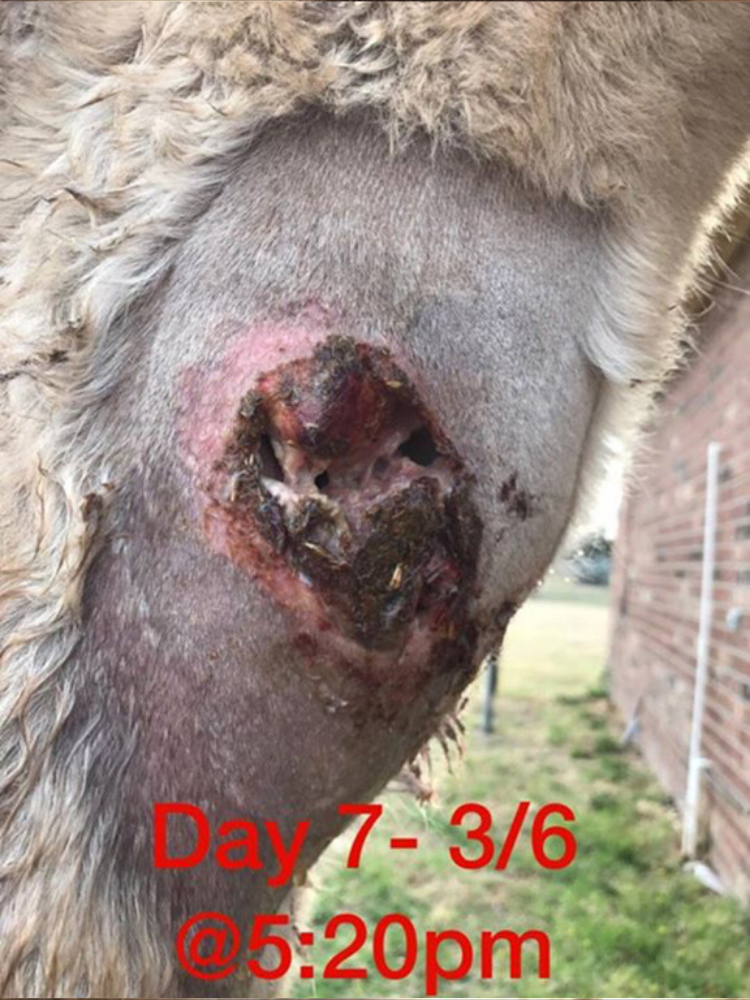 Subject: Bite
From: Dana
Date: Fri, March 10, 2017 7:15 am
To: Charcoal Remedies

The first pic [below – 3/9] was last night, he now has these new holes opening up. The 2nd pic is this morning [3/10] after we put the jelly w/ointment inside and around edges of wound. We then made a second batch without ointment and put every where the hair was shaved in hopes it would draw the toxins out. My daughter chose not to bandage last night for it is impossible to keep anything in place, and it appears that the open wound is granulating in. Please call me if you see this is not healing properly or if you see something out of the ordinary with the course this bite is going. 
Thank you all so much for you help and advice.
Dana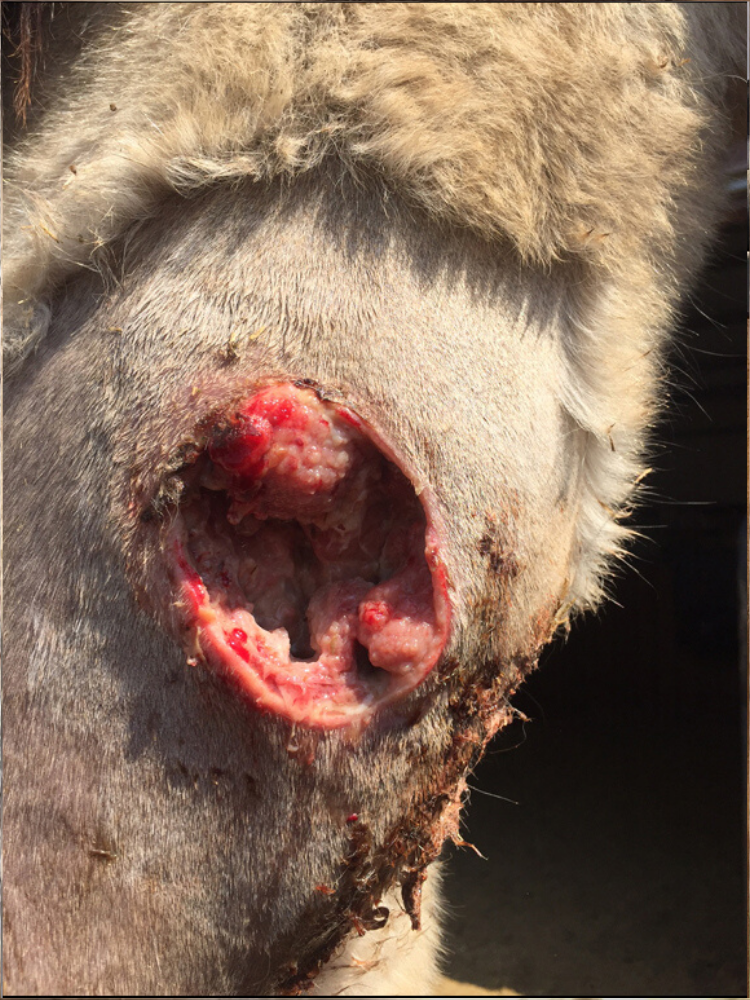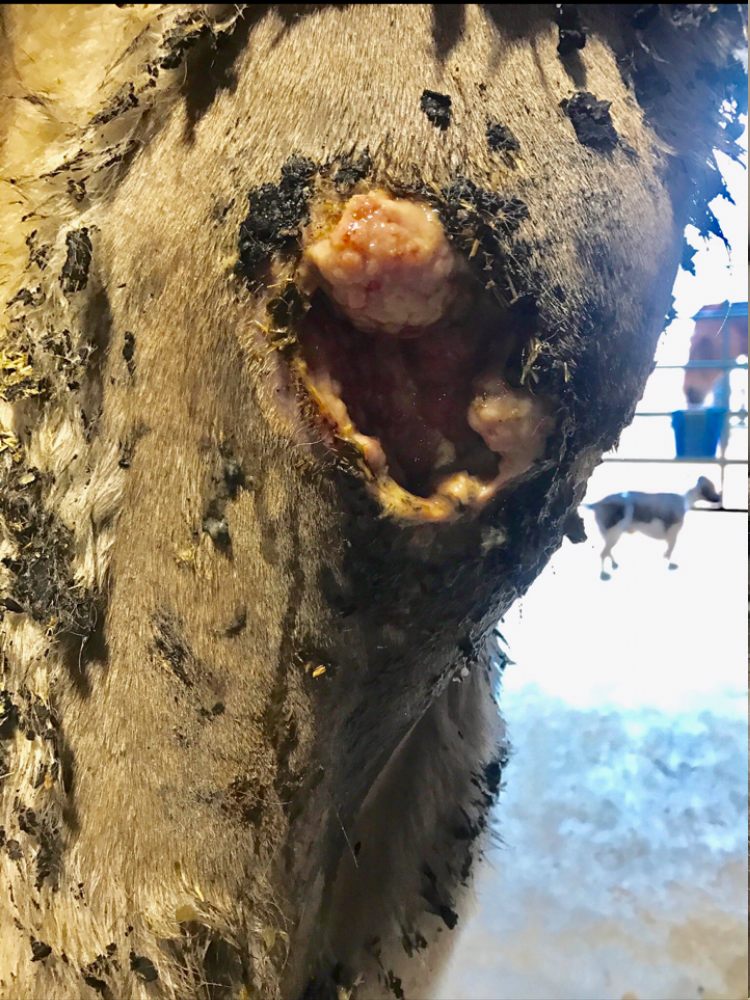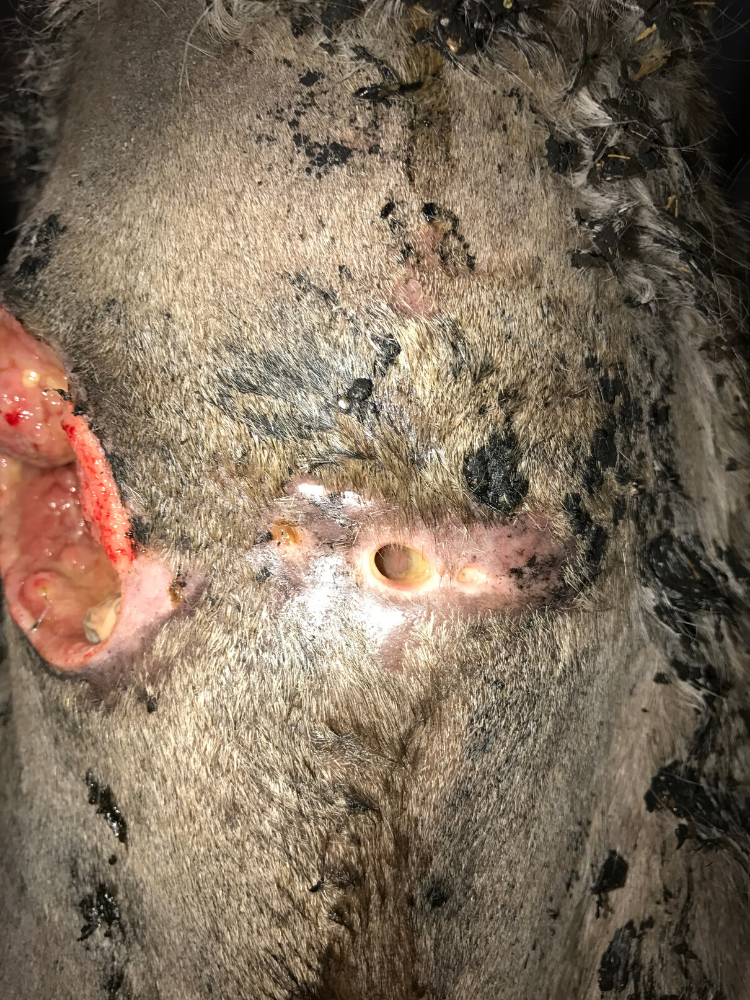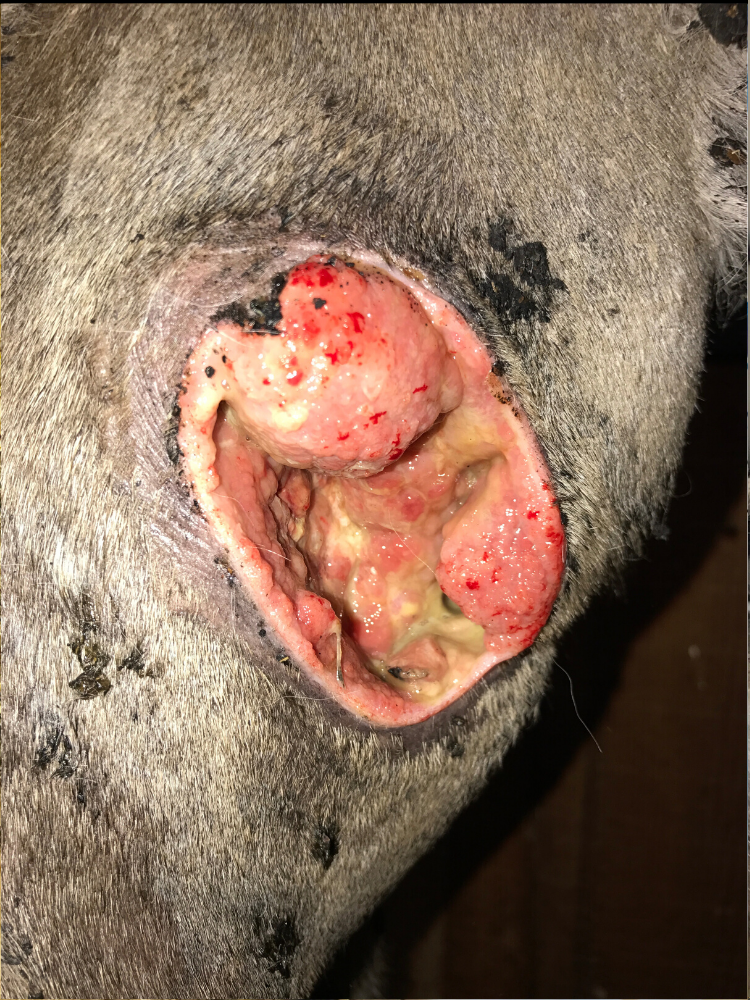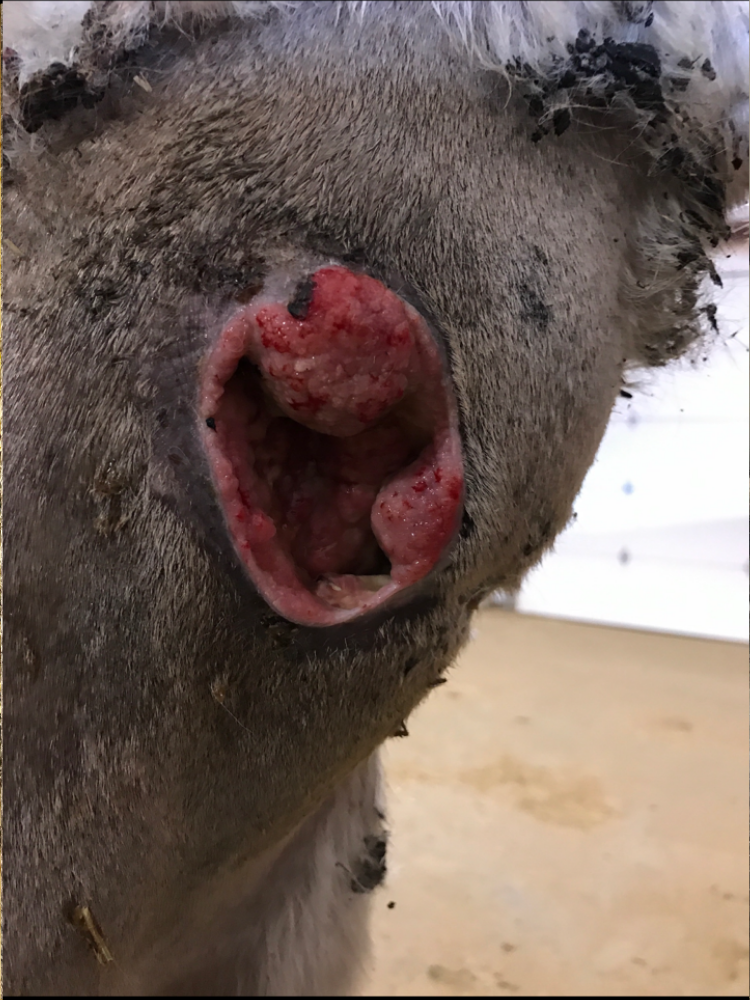 Today's pictures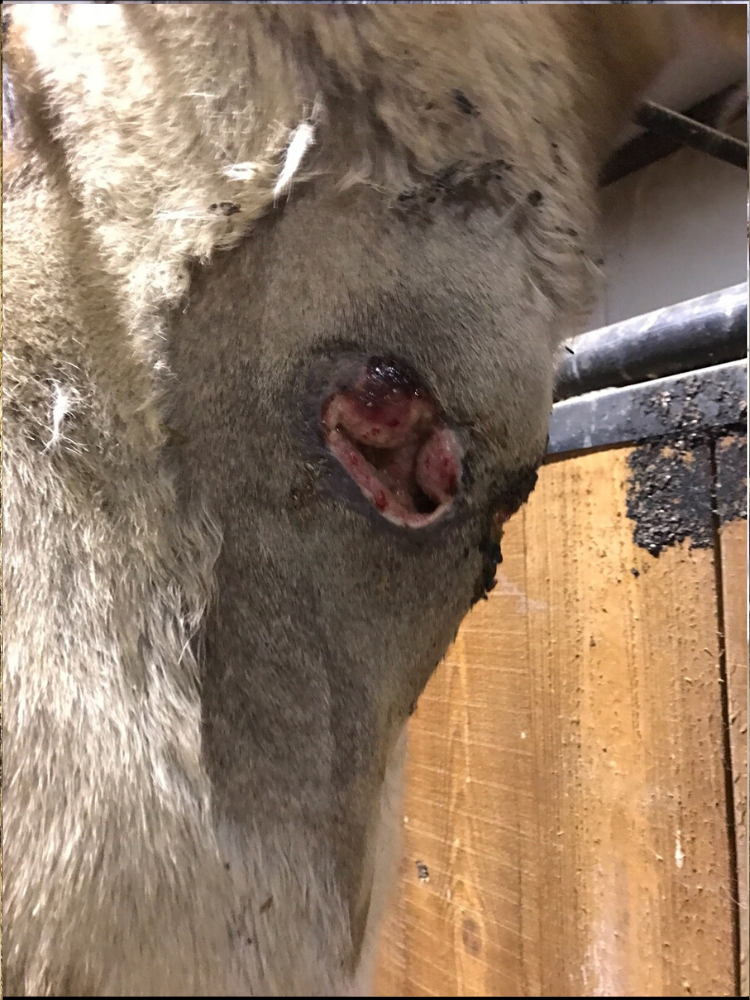 We
are amazed at how fast it is healing.
<•})><  Have a blessed day
We
never lanced this, on Sunday 3-5 the black area began to ooze starting with the
top left, then top right, by that evening all around it was oozing, it was
serum, smelt just like blood. Monday it was just an open hole. The last photo
was taken Sunday 3-5,  Saturday 3-4 look
pretty much like day#4, 3-3. As you can tell from day 1 why we thought it was a
kick.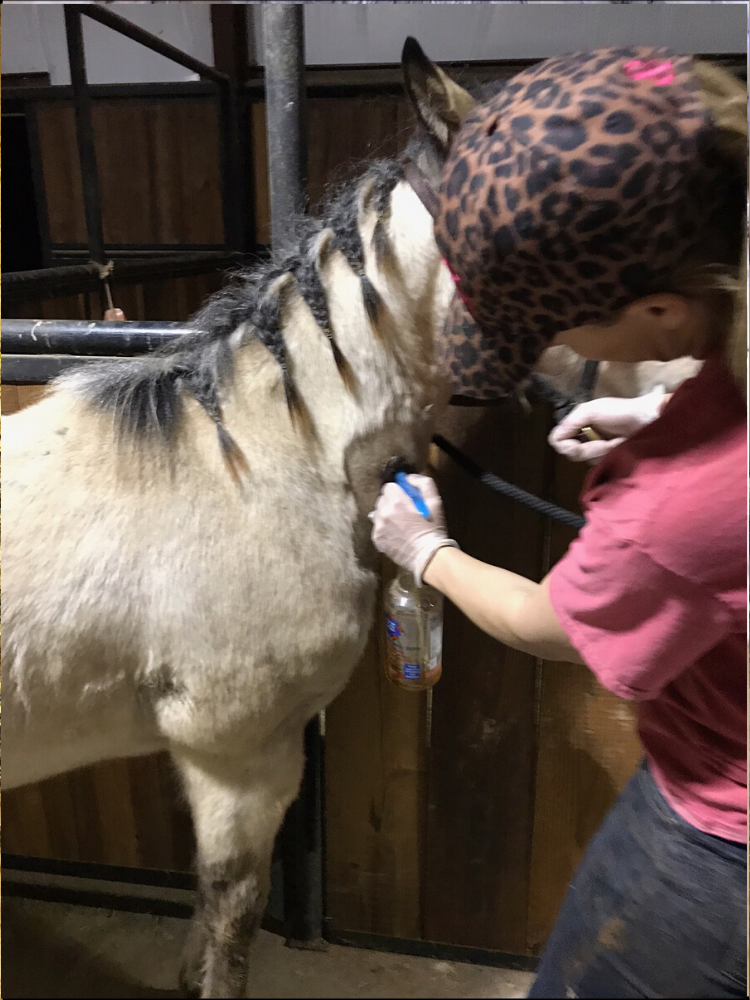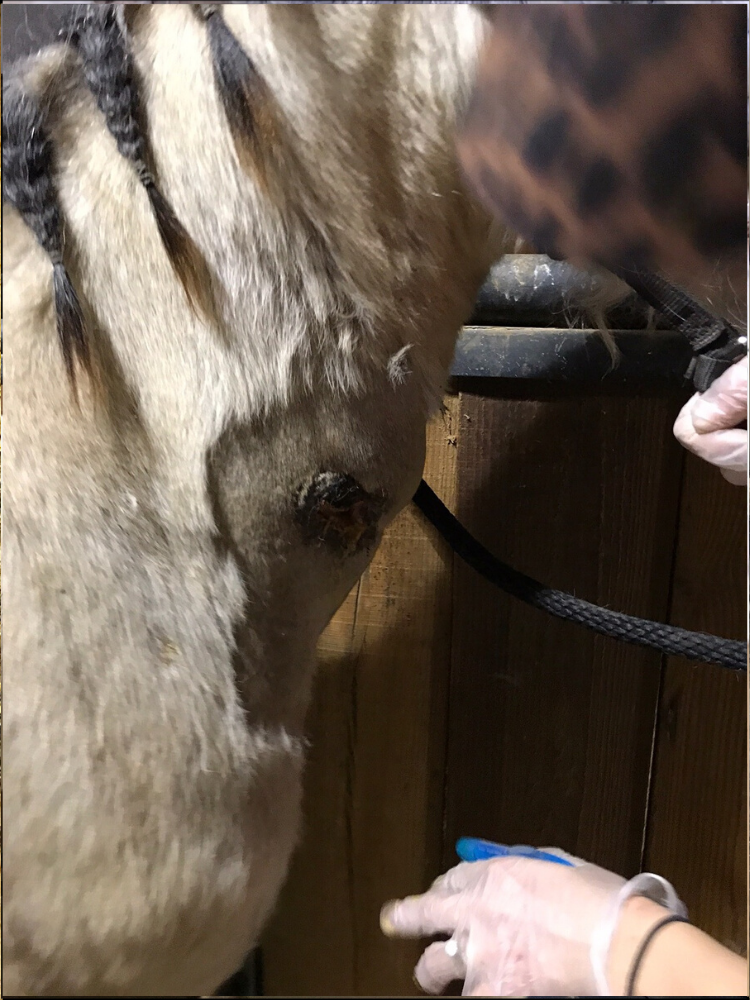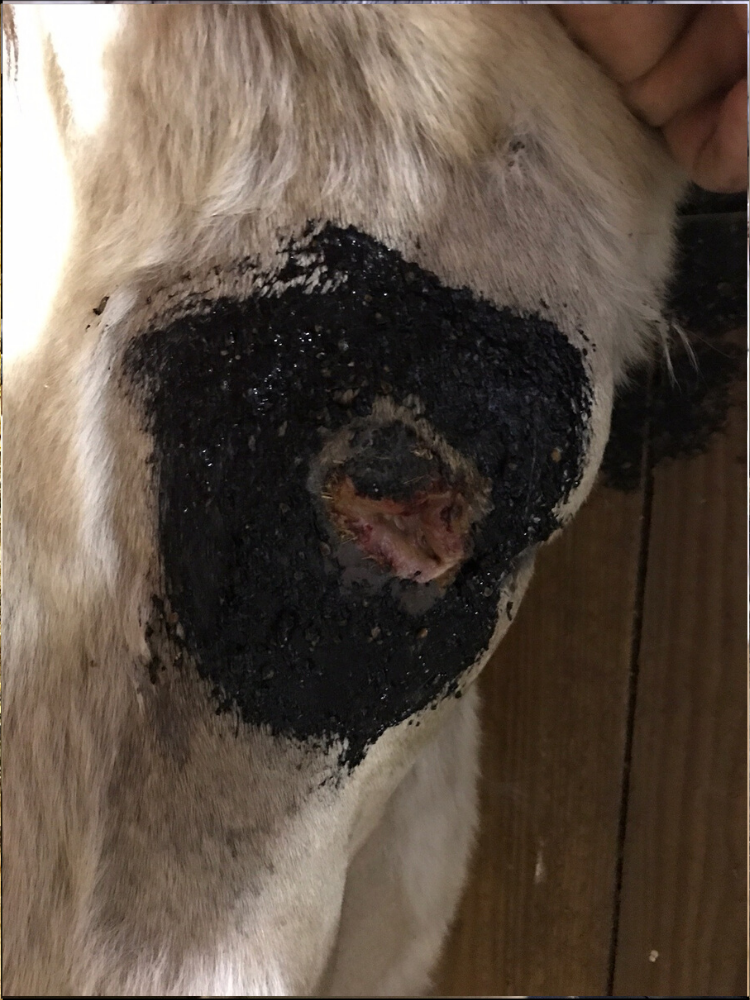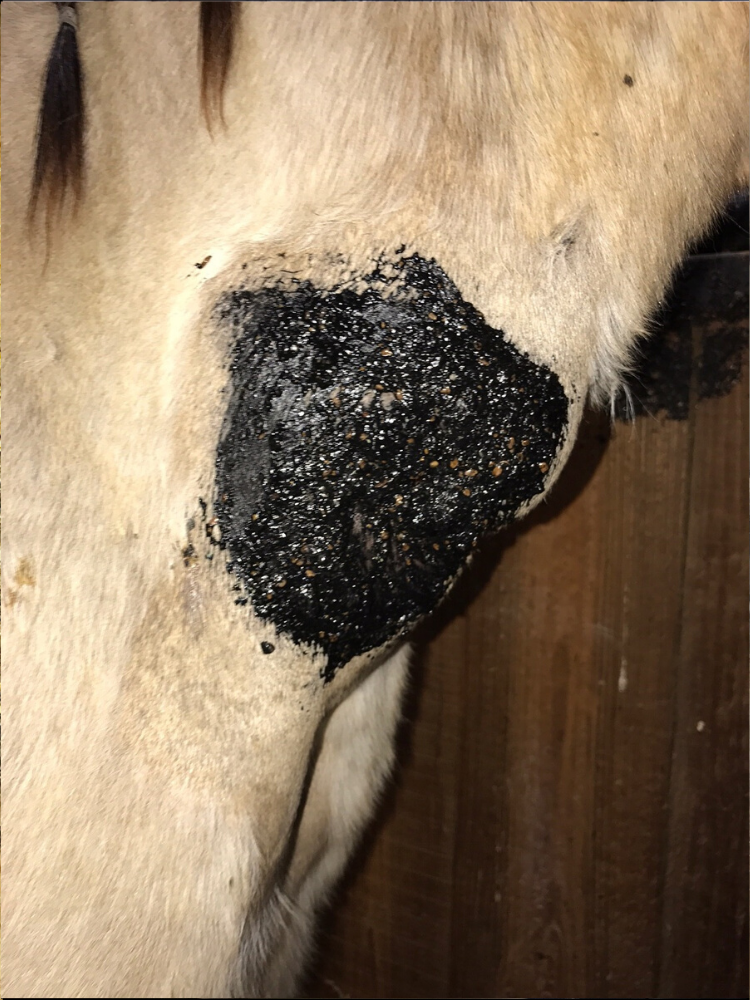 We continued to clean his wound with colloidal silver since that is what we started with and the wound was healing so good. We also used a 20ppm silver solution to mix with the charcoal instead of water. Our vet and ourselves are BIG believers in the colloidal silver. We used the 20 ppm 50/50 with distilled water to flush wound, then went back with a 250ppm 1-10 with distilled to spray before we put the jelly mixture on him. Since we could not get any sort of cover to stay on wound, twice daily he would get the jelly mixture with 1 Tbs of silver sulfadiazine cream added to it to go on inside of wound. The jelly on out side of wound is with out the silver cream. I will add the most important ingredient we added is prayer, standing against any complications from this spider bite, and believing healing for him. We can't thank you enough for the advice and encouragement that you and the staff gave us when this first started. The horror stories we heard from others, and the vets telling us that we weren't doing anything more for him then they would didn't leave us much hope. It was encouraging the success stories that you all had told me, and the confidence you had in the charcoal, took away our concerns. Thank you all so much. I will keep sending photos so you can see his progress.
On Mar 17, 2017, at 12:59 PM, John Dinsley wrote:
Thank you Dana
Yes, prayer and charcoal make for a great chemistry..
Yes, Kimberly is also a great fan of colloidal silver.
Am I seeing some swelling on his left side of the wound or is that
muscle?
Given there were those sinus wounds opening up, they can be a pain
to heal,
and can hide and surface later. I would recommend you keep
plastering the
whole area beyond the actual open areas with the charcoal jelly at
least for
a week after the wounds heal over.
But it sure is healing nicely and quickly – a sign of a healthy
animal.
Thanks again for sending the pictures.
John
Good news to hear this. What are sinus wounds? I saw him today I should have taken a picture, I was shocked to see it so small. Looking at his wound on the right towards his esophagus there is some swelling,  & it is still hard. And to the upper right of his wound is hard, no swelling, just hard. Everything else is good. With him still taking the charcoal can it lower the risk of it breaking out somewhere else?
Thank you again for all you all have done.
Dana
<•})><  Have a
blessed day
On Mar 20, 2017, at 10:50 AM, John Dinsley wrote:
Hello Dana
When I mention sinus wounds I am referring to the tunnels that
spread out from the main wound and surface elsewhere.
Yes, you can continue to offer him the charcoal in his feed/water.
We will be showing the pictures this coming week at some programs
we are putting on. I have enough but please send more when you can.
By the way, we have mentioned spider and tick, and while the damage looks to me to be a spider bite, he has so much thick hair it seems unlikely. Did the vet think of any other possibility?
John
3/21/17
I thought that's what you were referring to when you called it sinus wounds I had never heard it called that in laymen's terms we just would say the venom would spread.  My daughter told me the wound has closed and swelling is almost all gone. Will have pictures for you tomorrow.
Thanks
Dana
<•})><  Have a
blessed day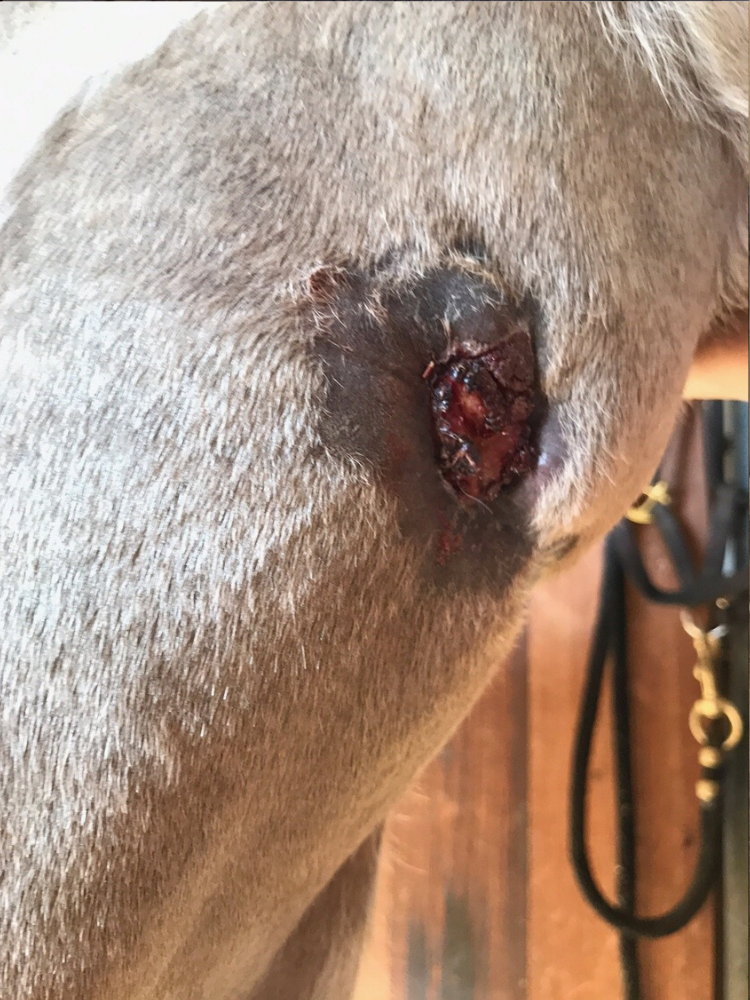 Subject: Colt spider bite
From: Dana
Date: Wed, March 22, 2017 9:16 am
To: Charcoal Remedies


John, this is yesterday, day 14 [14 days since they first applied charcoal], it has closed up, all swelling is completely gone. In talking with 2 different vets they said it looks like the brown recluse bites they have dealt with. They are very impressed with the progress of the healing. We are feeding him the charcoal and he is also getting Equine Elements Detox.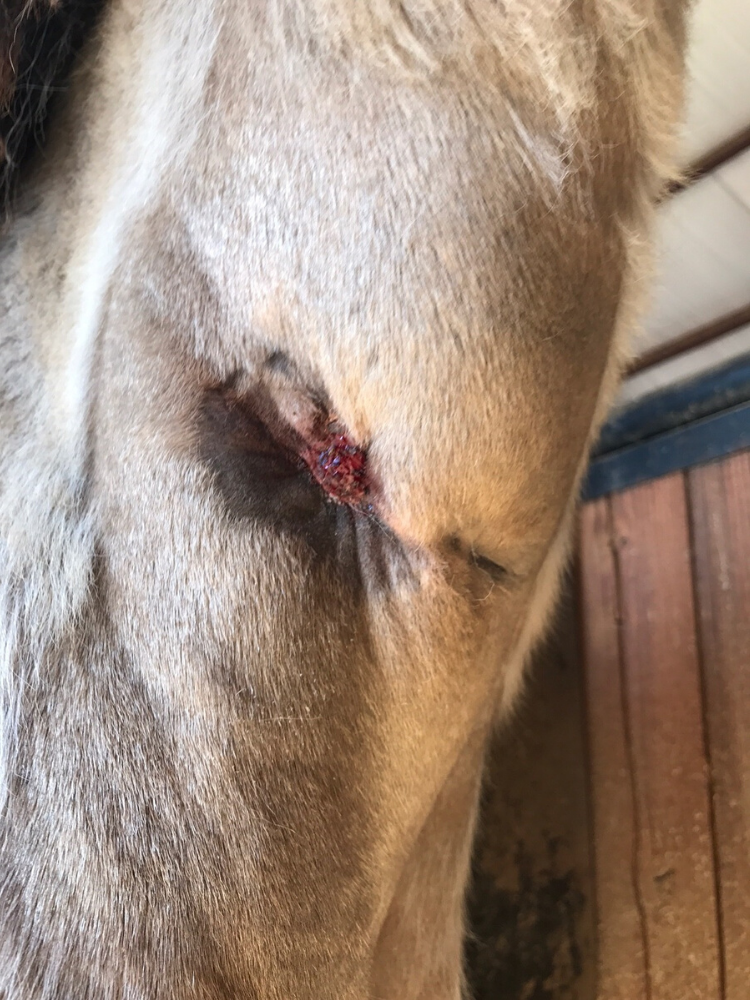 Thought you
would like to see the progress.
Subject: Spider bite
From: Dana
Date: Tue, April 11, 2017 2:54 pm
To: Charcoal Remedies

Hello Kimberly, this photo was taken this past weekend. I'll get another so you can see all hair has grown back. We are so thankful for your product, and prayers. We are amazed at how great it looks. We honestly thought he wouldn't have any hair grow back on it. 
I'm glad this can help people. 
Dana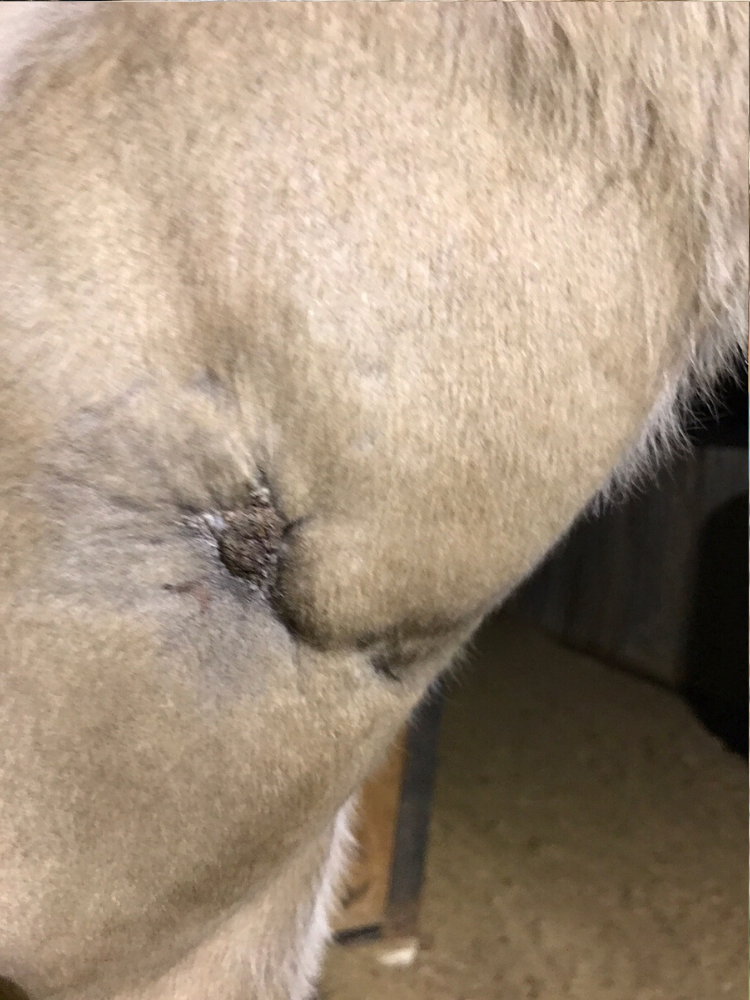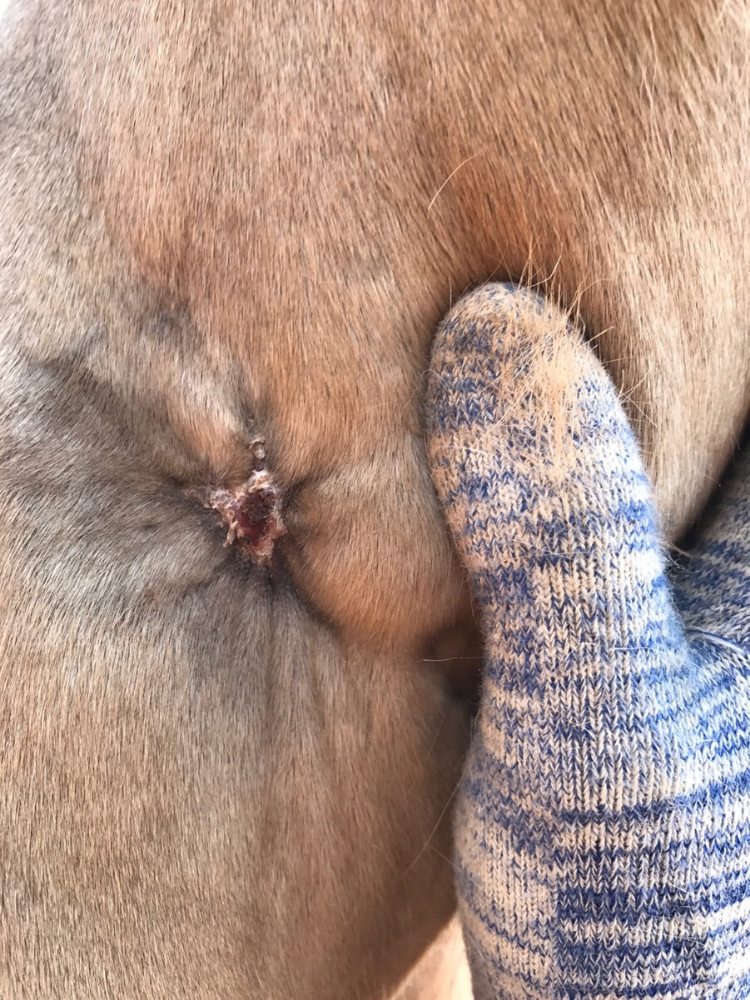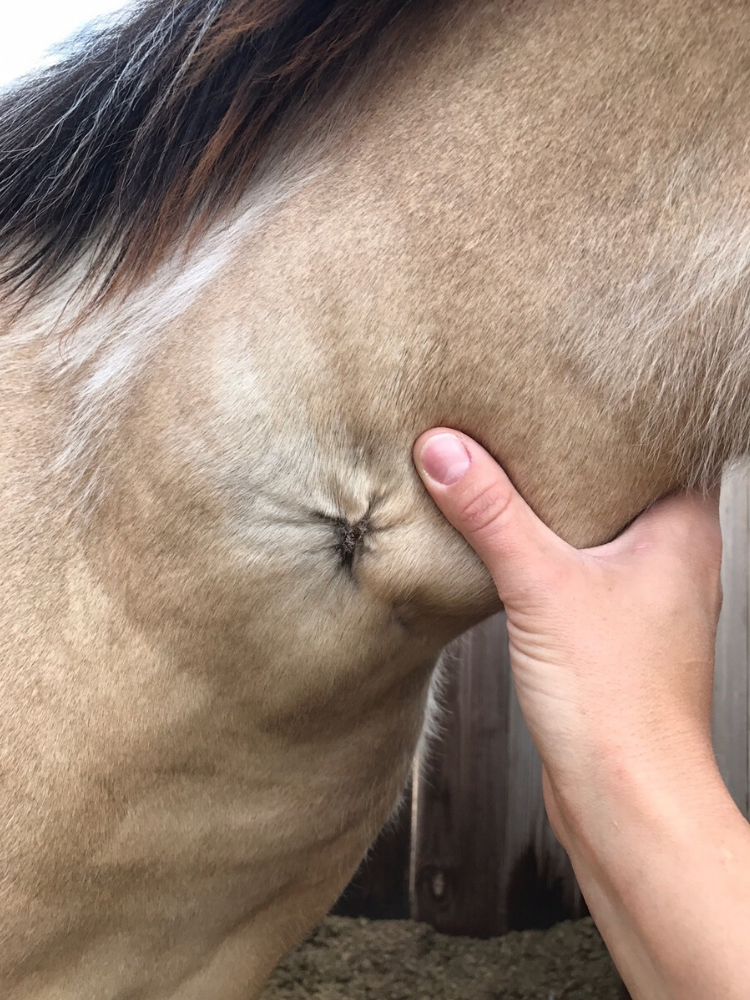 ---
To find out more how charcoal can help you treat spider bites and other common ailments, simply and naturally, right in your home, order the book CharcoalRemedies.com now. Also available in Spanish.